As trends in wedding catering change, 2023 is sure to be an exciting year. From food trucks and interactive stations, couples will have many options for creating a unique and memorable experience for their guests.
Whether it's a buffet-style dinner or personalized menus, there are plenty of ways to customize the dining experience on your special day. Different cuisine styles can also spice up the occasion – whether it's traditional dishes or something exotic and out of the ordinary.
No matter what kind of catering you choose, focusing on quality and fresh ingredients should always be a top priority. With all these new possibilities available this upcoming year, wedding catering in 2023 promises to be an unforgettable experience!
The Rise of Food Trucks in Wedding Catering
In recent years, food trucks have become an increasingly popular choice for wedding catering. With the rise of street-style cuisine and mobile kitchens, couples are now able to craft a unique experience that speaks to their tastes.
Food truck menus offer delicious meals made with fresh ingredients that give guests something to remember long after the event has ended. Plus, since they don't require a large amount of setup time or equipment, they can easily be incorporated into any size ceremony or reception without breaking the budget.
From tacos and burgers to waffles and ice cream cones, food truck catering takes traditional wedding fare up a notch while keeping it fun and interactive for everyone involved – from family members down to the bridal party. In addition to being more affordable than other types of catered events, this trend also offers flexibility in terms of venue selection since most trucks don't need much space when parked outside venues like parks or farms.
The freedom afforded by food trucks is what makes them such an appealing option for weddings in 2023 – no matter your style preferences or budget constraints there is sure to be something available that will work perfectly with your big-day plans! Whether youre looking for elevated comfort foods served out of windowed vans or trendy gourmet dishes presented at colorful kiosks around your celebration area – there's an ever-growing number of options available so get creative!
Embracing the Interactive Dining Experience
In 2023, wedding catering is all about interactive experiences. With creative food trucks and innovative stations, couples can indulge in the perfect combination of delightful flavors and interactive fun.
From appetizers to entrees, guests will be able to enjoy meals made with top-notch ingredients while interacting with each other throughout the night. Guests can also customize their dishes as they are served fresh from the kitchen or have fun creating their meals at an interactive station such as a DIY taco bar or custom pizza oven.
Not only do these options enhance presentation but they also provide an opportunity for bonding between guests who may not know each other yet. The interactive dining experience creates something truly unique for every couple's special day!
Eco-friendly and Sustainable Catering Solutions
As weddings are becoming increasingly popular and unique, couples are looking for ways to make their special day stand out. One of the most important elements is catering; with eco-friendly and sustainable solutions being the top priority.
From food trucks to interactive food stations, wedding caterers have a plethora of options when it comes to creating an unforgettable experience that respects the environment. Catering companies offering organic ingredients sourced from local farmers or even growing produce on-site help reduce waste while ensuring freshness in every dish served.
Incorporating compostable utensils and plates made from sustainable materials such as bamboo further reduces one's environmental footprint at events like weddings where large groups of people gather together for a meal.
Organic wines paired with locally grown fruits and vegetables create delicious dishes that not only taste good but also provide more energy-efficient choices than traditional catering methods might offer. Interactive food stations allow guests to customize their meals according to their dietary preferences, reducing the amount of leftovers often created by pre-planned menus – all without sacrificing flavor or presentation quality!
Eco-friendly solutions can be easily incorporated into any wedding style, providing couples with numerous options when planning their big day – whether they're searching for rustic charm or modern elegance – while still respecting our planet's resources at every turn.
Conclusion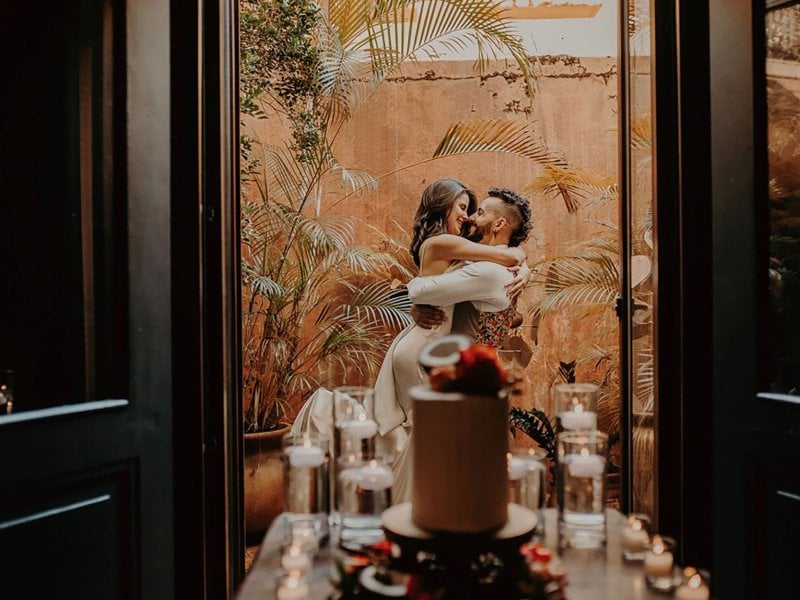 As wedding catering trends continue to evolve, 2023 shows promising options for couples looking to make their special day unique and memorable. From food trucks to interactive stations, the possibilities are endless.
Wedding catering is a crucial part of every celebration and couples must find the perfect caterer that can bring their vision to life in 2023!