Some casino games are played mainly by low-stakes players. Slot machines are an excellent example of this, as users risk a modest amount per spin in the hopes of winning a much more significant sum.
Alternatively, certain games are more popular with players who like to bet a little more each time but have a better chance of winning, even if the victory is merely an even money bet or something similar. Blackjack is a popular game, but Baccarat is likely the game most associated with high rollers.
Dragon Tiger Game is yet another popular casino game that is becoming mainstream for many people worldwide. However, it is said that Dragon Tiger Game is the simplified version of Baccarat. Is it true? What are the differences between Dragon Tiger And Baccarat? Continue reading to find out the answers to these questions.
What is Baccarat?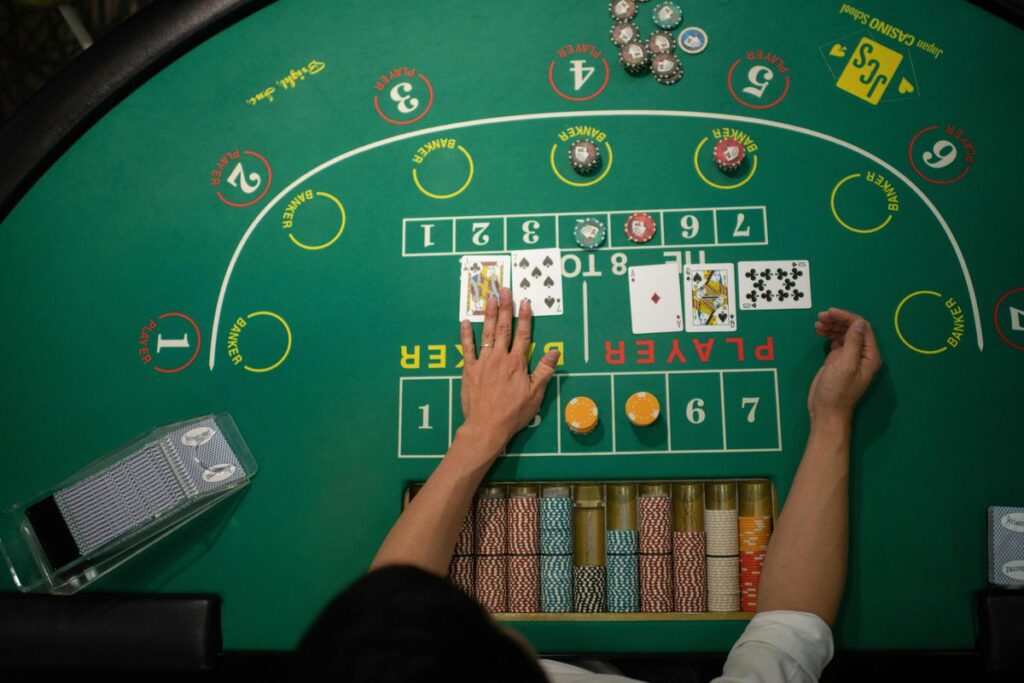 Baccarat's luxury has made it one of the most popular casino games. What is it about the game that makes you want to play it? It's a game of pure chance that requires no skill. Baccarat is a high-stakes game played in a separate alcove away from the rest of the casino.
Baccarat is usually played with real money in American casinos, with $100 bills strewn around the table. When placed in front of a winning player at a European casino, the high-denomination chips are rectangular "plaques," making the game look precisely as exciting as the American version.
Baccarat can be defined as a card game with two or three decks of cards. The hand with the highest score is the winner. Baccarat is purely a game of chance with no element of strategy. It's traditionally been a high-stakes game, but newer versions cater to gamblers who want to play for smaller amounts.
Rules of Baccarat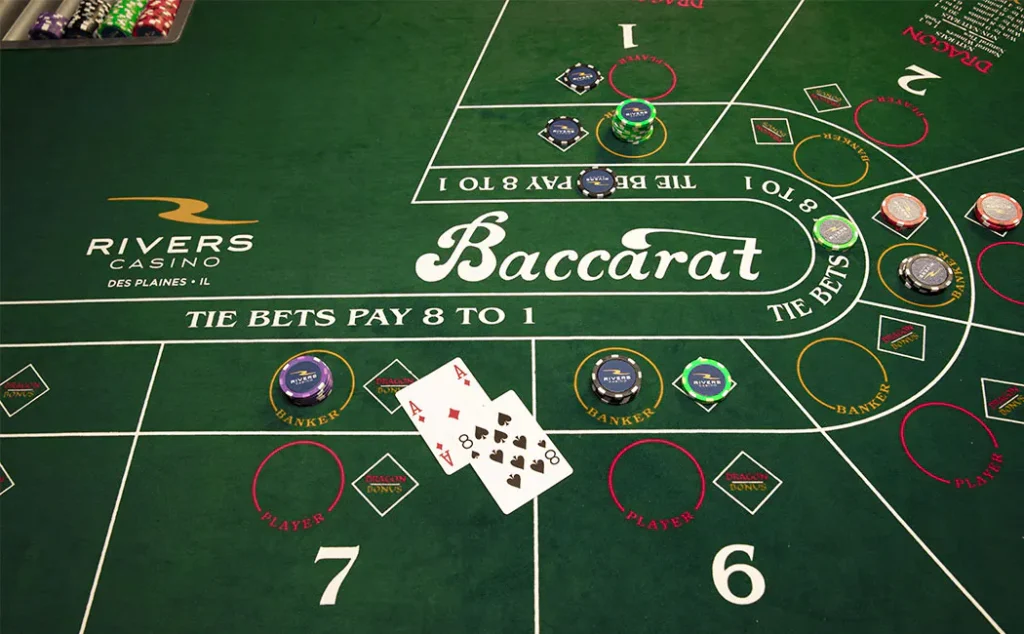 The gameplay is straightforward, allowing players to unwind and enjoy themselves. They only need to consider how much to wager after deciding on the hand. The dealer then follows a series of established guidelines to determine the winning hand. There isn't anything either side can do about it. There is usually a third option, a Tie, in addition to a banker/player bet. This type of tie does happen, but it's uncommon, and it's considered an unfavourable bet.
The hand with the closest total to 9 is the winner. The face values of 2-9 cards are the same; 10-K has no value, and A is worth one point. Unlike blackjack, it is impossible to go bust because the first digit is dropped when the total surpasses 9. For example, the sum of 5 and 8 is 13, but when the first digit is removed, the sum becomes 3. Both the banker and the player are dealt two cards at first, and more may be dealt later.
The player decides whether to hit or stand, and specific rules govern other judgments. A 1 to 1 payment is available to those who correctly bet on a winning player's hand. While individuals who accurately predict a winning bank hand are also eligible for a 1 to 1 payout, they must additionally pay a 5% commission under baccarat rules. As a result, the payoff odds on this hand have been reduced to 19 from 20. A winning tie bet earns you an 8-to-1 reward.
What is a Dragon Tiger Game?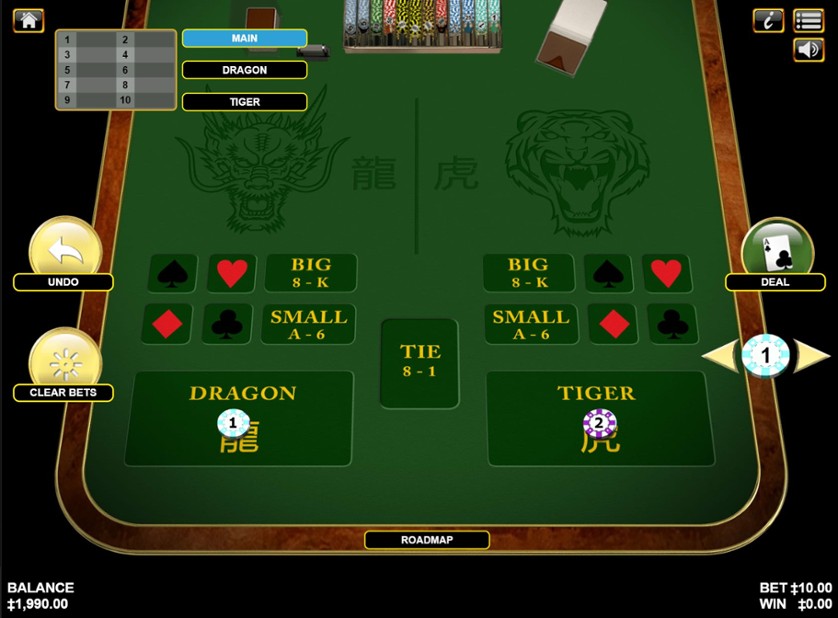 Dragon Tiger is a Baccarat-style game in which you try to guess which card is higher, the Dragon or the Tiger. You aren't playing against the dealer or other players, just like in any other casino game. The objective of the game is to guess which hand will have the highest card.
Only two cards are in play, and there are three possible outcomes. Either the Dragon or the Tiger will win, with a tie (push) possibilities as well. There aren't many side bets in regular (Flash) versions of Dragon Tiger. However, you can wager on whether the winning card will be big or small and on the card's suit.
Rules of Dragon Tiger Game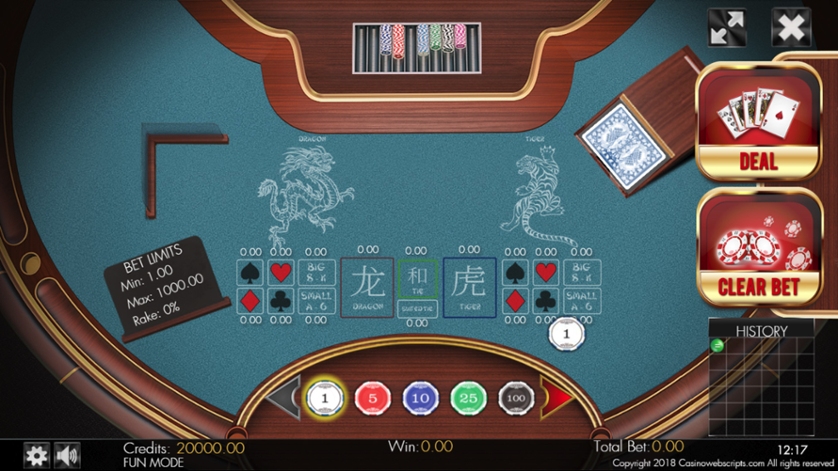 Dragon Tiger is a fun online casino game for those looking for something unusual. Many different online casinos offer this game. Because of its speed and simplicity, it has become a popular game. The game is played with a 52-card standard English deck that does not include any Jokers or wild cards.
A Blackjack Shoe, which carries six to eight decks, is used to deal with the cards. Participants will also not be competing with the dealer. Dragon Tiger's goal is to figure out which of the Dragon and Tiger's hands will have the highest card. You will wager on the Dragon, Tiger, or a tie before the hand is dealt. After that, the dealer will deal one card to each Dragon and Tiger, with the higher face value winning.
Even for those who are new to casino games, this game is simple to play. Dragon Tiger is similar to Baccarat since the outcomes are determined by which of the two sides has the higher card: the Dragon or the Tiger. The highest card value is K, while the lowest is Ace. Players can wager on the Dragon, Tiger, Tie, Odds, Evens, Red, and Black. On a single hand, you can also place multiple bets! The card values are the same as what they show; however, J is 11, Q is 12, and K is 13.
Conclusion
Dragon Tiger is a live casino game similar to Baccarat but with an Asian twist. Dragon Tiger has long been a popular game at Asian casinos, but now that internet casinos are getting more popular, you may play it anytime, anywhere.
Since online casinos are getting famous with players worldwide, you can now bet on any game, whether Baccarat or Dragon Tiger, from the comfort of your home.
Although there are no significant differences between Dragon Tiger and Baccarat, you can switch between the two games when you get bored with one.